Water Decoloring Agent CW-08
Product Detail
Product Tags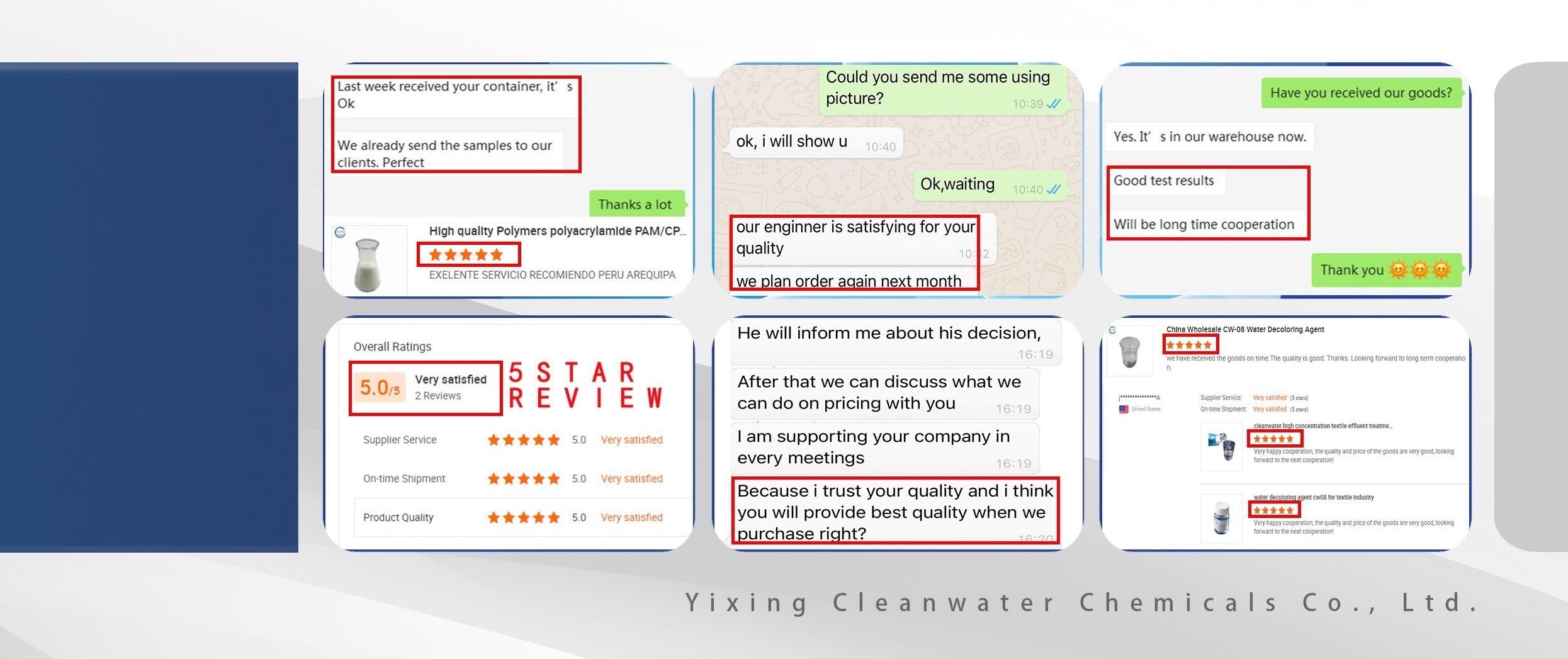 CW-08 is a high-efficiency decolorizing flocculant with multiple functions such as decolorization, flocculation,COD and BOD reduction.
1. It is mainly used for waste water treatment for textile, printing, dyeing, paper-making, mining, ink and so on.
2. It can be used for color removal treatment for high-colority waste water from dyestuffs plants. It is suitable to treat waste water with activated, acidic and disperse dyestuffs.
3. It also can be used in the production process of paper & pulp as retention agent.
Item

CW-08

Main Components

Dicyandiamide Formaldehyde Resin

Appearance

Colorless or Light-color Sticky Liquid

Dynamic Viscosity (mpa.s,20°C)

10-500

pH  (30% water solution)

2.0-5.0

Solid content % ≥

50

Note: Our product can be made upon your special request.

1. The product shall be diluted with 10-40 times water and then dosed into the waste water directly. After being mixed for several minutes, it can be precipitated or air-floated to become clear water.
2. The pH value of the waste water should be adjusted to 7.5-9 for better result.
3. When the colority and CODcr are relatively high, it can be used with Polyaluminum Chloride, but not mixed together. In this way, the treatment cost can be lower. Whether Polyaluminum Chloride is used earlier or afterwards depends on the flocculation test and the treatment process.
1. It is harmless, non-flammable and non-explosive. Should be kept in a cool place.
2. It is packed in plastic drums with each containing 30kg, 50kg, 250kg ,1000kg, 1250kg IBC tank or others according to your requirements.
3.This product will appear layer after a long-term storage, but the effect will not be affected after stiring.
4.Storage Temperature: 5-30°C.
5.Shelf Life: One Year
1.How to use decoloring agent?
The best method is to use it together with PAC+PAM, which has the lowest processing cost. The detailed guidence is avalible,welcome to contact us.
2.What capacity buckets do you have for liquids?
Different products have different capacity barrels, for example, 30kg, 200kg, 1000kg, 1050kg.

---
Previous:
factory Outlets for China Water Treatment Chemicals Sterilization Bleaching Agent Cyanuric Acid Powder Cya 98.5%
---
Write your message here and send it to us